- Composition Lessons with Helene (1) -

By Helene



Table of Contents

1. Introduction
2. First Stanza
3. Second Stanza
4. Third Stanza
5. Conclusion
1. Introduction

Let's try composing parts of Cutiepie on a music score featuring Mabinogi 3-note Chords!

Hey everyone! I'm Helene with the red kitty hat! This book will help you compose the latter part of 'Cutiepie', the first song featured in Mabinogi~

Mabinogi Music SCore can feature 3 notes for chords, divided up in three parts:
Melody
Chord 1
Chord 2
Now, what does this mean?




It means translating this into the following:
Melody:G
Chord 1:E
Chord 2:C

There's no such rule that dictates that the highest note has to be put in as Melody. It's up to you to assign the notes.
In Mabinogi Music Scores, you can enter the longest series of notes on the Melody, so you can assign the most IMPORTANT series of notes as Melody, right? 2. First Stanza

Let's see the first phrase of Cutiepie
Melody
t132v15l8&
r2o6c+rd+r
Chord 1
V11l16
o3g+a+>cc+d+fg+a+cc+d+g+d+g+a+>d+
Chord 2
V13l32
r2o4c+<gf+fd+c+c<a+g+f+fd+ff+g+a+

Let's see the beginning part of the Melody. t132 v15 ~ right? This assigns the tempo of the song and the volume of the Melody.
Just assign Tempo t on the Melody, and it'll automatically be carried over to Chord 1 and Chord 2, so you won't need to assign t again on Chord 1 and 2!
As a result, just assign the Volume v for Chord 1 and Chord 2 and immediately start with the notes. These chords feature commas, > to raise one octave, and < to lower an octave. Chord 2 features glissando, a series of fast notes, which features the intro part where 2 octaves fall.
This will probably be the bass part of the song. 3. Second Stanza

This is the score for the Second Stanza!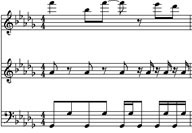 To transpose~
Melody
f4<a+>f4rd+c+
Chord 1
<g+8r8g+8r8g+8rg+rg+rg+
Chord 2
l16f+8>f+8<f+8>f+8<f+>f+<f+8f+>f+<f+>f+

It'll look something like this.
You see the tie in the Melody section? You can just write f8&f8 for that, too. For now, we'll use f4.

Chord 1 is a series of notes that also denotes a simple rhythm, and the breath mark is an important pause that makes the rhythm groovy, so please don't forget it, and put it where it should be!
Chord 2 is a bass part that goes up an octave, then down an octave, then so forth!
The length of each note is changed to l16, and used &lt, &gt and others to simplify the signing of the octave.
Before, I would have written o3 o4, but it's so much simpler now...
Use 2 < to move down 2 octaves, which means o2~ 4. Third Stanza

This is the score for the Third Stanza!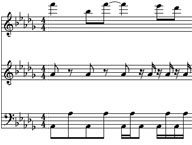 To transpose:
Melody
f4<a+>f8&f4d+c+
Chord 1
g+8r8g+8r8g+8rg+rg+rg+
Chord 2
<g+8>g+8<g+8>g+8<g+>g+<g+8g+>g+<g+>g+

it'll look something like this!
The slur in Melody part now features f8 and f4! You can just write f4..
To show the tempo of a 4/4 beat, the score features a separation of quarter notes, and the notes that have been cutoff will be tied together with Ties, but in Mabinogi scores, you won't need to do such thing.
Once you put in all the notes per phrase, though, doesn't it feel actually easy to put in all these notes??

Chord 1 is not much different from the Second Stanza, and
Chord 2 was only slightly changed with some bass parts going up a note or two! 5. Conclusion

Due to schedule conflict and other unfortunate circumstances,
this book will have to end right here.~
Cutiepie, I'm sure it's not that hard for you!
I'll put the rest of the scrore here, so check it out and try playing it with your instrument!


Melody
c4<f>c4&cc+d+
f4g+rc+4d+4
f4<a+>f4rd+c+
f4<a+>f4&fd+c+
c4<f4>d+4c+c
d+4&d+c+16c16<a+4>c+d+
f4<a+>f4&fd+c+
f4<a+>f4&fd+c+
c4<f>c4&cc+d+
f4g+4c+4d+4
f4<a+>f4&fd+c+
c4c+4d+4g+4
<a+4>c4d+4g+4
a+1

Chord 1
g+8r8g+8r8g+8rg+rg+rg+
g+8r8g+8r8g+8rg+>c+<c+g+>c+
<g+8r8g+8r8g+8rg+>c<g+rg+
>c8r8c8r8c8r<a+rg+rg+
f+8r8f8r8g+8rf+rg+rf+
f8r8f8r8f8rfg+a+>d+<g+
g+8r8g+8r8g+8rg+rg+rg+
g+8r8g+8r8g+8rg+rg+rg+
g+8r8g+8r8f+8rf+rg+rg+
g+8r8g+8r8g+8rg+g+rg+r
g+8r8g+8r8g+8rg+rg+rg+
g+8r8g+8r8g+8rg+rg+rg+
a+8r8a+8r8a+8ra+ra+ra+
a+8r8a+8r8a+8ra+a+ra+r

Chord 2
<f8>f8<f8>f8<f>f<f8f>f<f>f
<a+8>a+8<a+8>a+8<
g+>g+<g+>g+<a+>cc+g+
<f+8>f+8<f+8>f+8<f+>
f+<f+8f+>f+<f+>f+
<g+8>g+8<g+8>g+8<
g+>g+<g+8g+>g+<g+>g+
<f8>f8<f8>f8<
f>f<f8f>f<f>f
<a+8>a+8c8>c8o2a+>
a+<a+>g+<a+>cc+g+
<f+8>f+8<f+8>f+8<
f+>f+<f+8f+>f+<f+>f+
<g+8>g+8<g+8>g+8<
g+>g+<g+8g+>g+<g+>g+
<f8>f8<f8>f8<f>
f<f8f>f<f>f
<a+8>a+8<a+8>a+8<
g+>g+<g+>g+<a+>cc+g+
<f+8>f+8<f+8>f+8<f+>
f+<f+8f+>f+<f+>f+
<g+8>g+8<g+8>g+8<g+>
g+<g+8g+>g+<g+>g+
<a+8>a+8<a+8>a+8<a+>
a+<a+8a+>a+<a+>a+
<a+8>a+8<a+8>a+8<a+>
a+<a+8a+>a+<a+>a+

Hopefully this book has helped you compose a song...(did it really?)